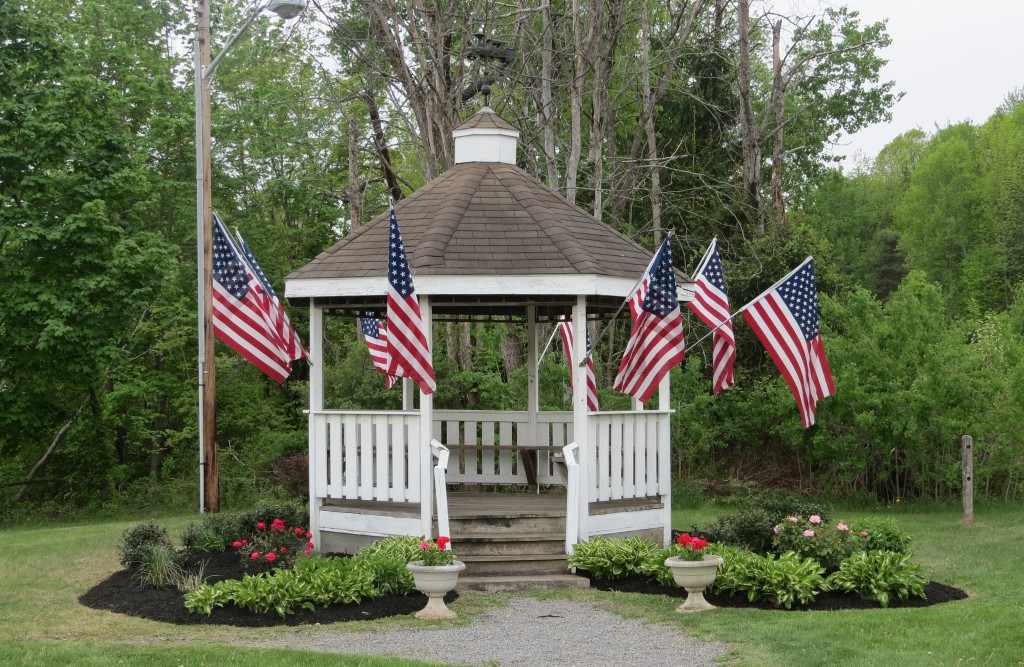 Courtesy of
Doug Fall
, owner/operator of 
Delanson Gardens,
our Gazebo is ready to impress this Memorial Day.  Great Job!  Thanks Doug.
**
♥ 

Delanson Village Wide Yard Sale
Saturday, June 6th 8:00 am to 3:00pm
$5.00 per garage sale helps offset advertising costs and includes your garage sale on the Yard Sale map.  There is space available throughout the village to set up.  Deadline to be included on the map is June 3rd.   For more information call 895-2257.  Please make checks payable to Gayle Gifford, PO Box 339, Delanson, NY 12053.  Restrooms, maps and food.

***
♥ 

Village Ban on Open Burning – March 16 to May 31 

♥

All open burning is strictly prohibited in the Village during this high fire-risk period from March 16 through May 31.  If you see an illegal open burn, please contact Fire Chief, Kevin Morrison at 657-9273.  For more information on the Open Burn Law, click here.

***
Adopted 2015-16 Budgets
The adopted Village and Water Budgets for 2015-16 are here!! Click below to view or download.
***
New –  Animal Control Department
We've just created the Animal Control Department here on delanson.net.  It is conveniently located under Departments on the left side bar.  Our Animal Control Officer, Darla Gullotta, has started us off in the right direction with a wonderful introduction page. CLICK HERE to learn more.
***
Newsletter Subscription
You can now go paperless and sign up here online to receive the Village Newsletter via email. This is a FREE service and you can always unsubscribe at anytime by contacting the Village Clerk and requesting your name be removed from the Newsletter Email Mailing list. Simply go to "Newsletter" on the main menu and click the drop down "Subscribe" or  CLICK HERE
***
What's Inside?
Village-Wide Garage Sale Date
Hydrant Flushing Dates
N.Y.S Open Burn Ban
Thursday Summer "Concerts in the Park" start date
Village Budget Passes for 2015-2016
Village Phone Numbers
Volunteers Needed for the Planning Board
And more…    

READ MORE…
***
Complaints of Idling Trains
It is prohibited by Local Law 2-1990 for trains to idle within the Village limits for more than 30 minutes.  Complaints of trains idling for prolonged periods of time should be directed to the CP Railway Community Connects Line at 1-800-766-7912.  For a thorough investigation of the incident, the following facts must be presented at the time of the complaint.
Date the train was idling in the Village.
Time of day the train came into Village and left the Village if you know it.  Otherwise, length of time you observed the train idling in Village
Nearest Crossing Location (Use crossing # 250195D, which is the crossing number for Main street, Delanson)
Engine Number (4 digit number of the first engine of the train – can be found on side of engine or on the front above the engineers front window)
When you call the 1-800-766-7912 number, you will get a menu driven voice mail system.  Following the prompts will allow you to leave a message for the CP rail police to investigate.  Incidents must be reported within 24 – 48 hours of the occurrence to be investigated.  In addition to the information above, leave your name, address and phone number.   Keep a list of all the dates and times you have called to complain about the train.  This information can then be gathered by the Village and sent to Federal & State agencies that may assist us in prohibiting the trains from idling in the Village.
***
Email Notification System
The Village of Delanson has initiated this Email Notification system so residents can be notified by email immediately of important information or any emergency situation that has developed in the Village.  Examples would be water main breaks, water main repairs, hydrant flushing, sudden changes in Village services such as garbage pickup or snow plowing, flooding, road closings, damaged roads etc..  Emails will not be sent for normal news items, notices or scheduled events. In addition, updates will be emailed to keep residents informed of the ongoing circumstances as new information is received by the Village until the event or emergency is over. There is no cost for this service.  
Simply fill in your email address in the box on the lower left sidebar of this page and click the SUBSCRIBE button.  You will receive an email asking you to confirm your decision to receive these bulletins.  Once we receive your confirmation, you will be added to our mailing list to receive theses notices. OR, you can send an email to webmaster@delanson.net and ask to be added to the email notification list.  That's it!  Please do not send an email to the village clerk as this will not add your name to the notification list.
Your privacy is important to us. Your email address will not be shared, sold or used in any other capacity and you may unsubscribe at any time by clicking on the unsubscribe link on any email you receive or by contacting the web guy at webmaster@delanson.net. We hope this new feature will not only help keep our residents well informed but safer during emergency situations.